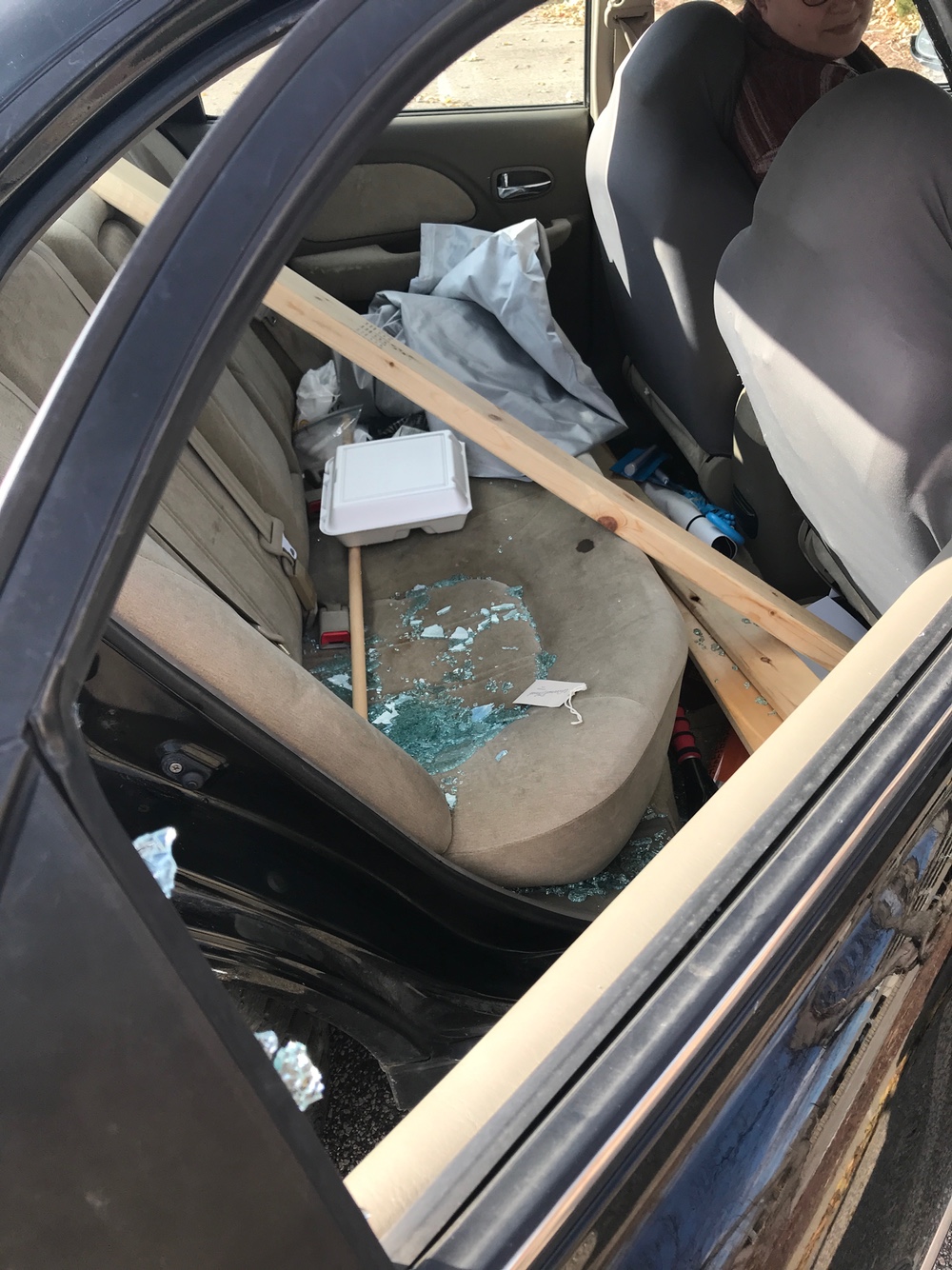 On Friday night we opened our production of "The Laramie Project". It was an emotional day as the opening coincided with the service to finally inter Matthew's ashes in the National Cathedral. We were thrilled to be doing our part to keep Matthew's legacy and memory alive, but also to continue the conversation about the importance of working for justice and safety for people who continue to be at risk.
After the show a few of us headed out to a favorite local restaurant to eat dinner and celebrate. We finished up about an hour and a half later and walked back out to Ashley's car. When I circled the passenger side I realized that the back passenger window had been smashed in and there was an empty space where our bags used to be.
Ashley's bag was a new rehearsal bag. Thankfully it only had some scripts, highlighters, notes, and a couple of theatre books in it. My bag, on the other hand, had my life in it. My laptop and ipad, all of the cash from the theatre company's cash box, my fountain pens, my notebooks, my prescription sunglasses, and my passport.
I felt sick. Panicked. But also completely helpless. I knew the stuff was gone the second I saw the window. We filed a police report (mostly for insurance purposes) and drove around the block to see if anything had been dumped and then we went home.
I'm not going to lie I was not in a good space. I was furious. But I was also deeply sad. My notebooks had new writing in them, pages of new plays, notes, etc. My planner was in there. A journal I had just started. The log book I use to keep record of my days. All stuff that was irreplaceable. I just felt sick. And depressed. My brain immediately went to some very unpleasant places.
Posted online about the theft and posted in a group on Facebook for people to keep an eye out. I finally was able to get a bit of sleep.
When I woke up I was still in a bad place. But then things started to turn around: A friend reached out and set up a GoFundMe to try to raise some money to help replace what was stolen. A stranger found me on Facebook to say that she thought she had found my notebooks and when I opened the picture I could have wept with relief because she did!! The one thing that was irreplaceable had been found. 

Other folks reached out with words of support, with hugs, with consolation. I felt held up by my community and so grateful.
There is still so much to replace (or pay off). I am nervous about the passport situation. I am frustrated at the inconvenience of getting all of the tools of my craft reset and figuring out what I need right now and what can wait. And figuring out how to not let this completely throw me off my game. I'm figuring that when all is said and done it'll take about $4000 to pay for all of the replacements and the fix for Ashley's window. I am thankful we are safe, and that our wallets and phones weren't in the car. But it still really really sucks.
So I am sitting in a place between sadness and joy, between relief and anger, between despair and hope. I am grateful for all of those who have already stepped up to help. Grateful to hear from folks who have told me that my work is meaningful to them and that I need to keep going on it. Grateful to those who have reached out to ask what we need.
I am grateful for you. And will continue to work for all of us; for justice, for visibility, and for hope.
If you want to contribute, the GoFundMe is here. And you can also send funds through paypal.