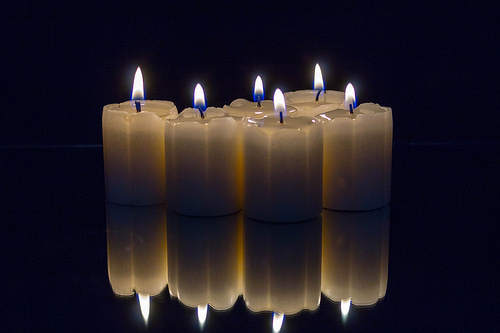 The silence between.
I've never experienced it in worship anywhere else. It's one of the things I love most about praying with the monks.
Normally worship services go like this: announcements, and then some music, then right into prayers, then more music, then a reading, then the sermon…from one thing to another we move through it and then the service is over.
But here. Here it's different.
Here there is a reading. And then a long stretch of silence. Prayer. Then more silence. The silence stretches. It permeates the space and the moments in between. 

And it's in those in-between moments where I feel my breathing shift. I feel it deepen. My heart slows.
And I have some time to process. I can think about the reading I've just heard or the prayer we've just said together. I can allow it to sink in and land somewhere in my heart. I appreciate the silence.
It makes me think about how often I race from one thing to another. I finish reading a book and I immediately pick up the next one. I hit send on an email and I'm already on Facebook before the email sends. 

I'm getting better. My meditation practice is helping me to slow down. To pay attention to my breath more often. But I still race.
But I'm learning that it's in the in between moments that the magic happens. That the lessons land. That the new ideas come. It's in the moments of silence where I can check in with my heart and see how I am really feeling.
I want to make more moments for silence in my life. More moments where I pause between tasks and activities. More moments where there is space and margin.
If work like this matters to you, please consider supporting me on Patreon.
Photo Credit: That_Randy Flickr via Compfight cc