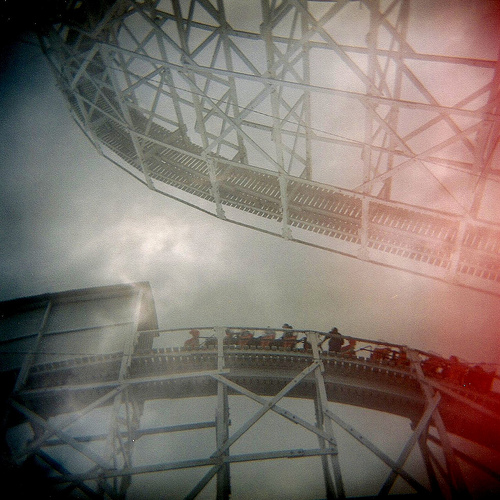 Picture a roller coaster, speeding along the track. It takes some amazing curves, does a couple of loops, and then starts powering up another hill so that it can drop and head toward the finish. Except, instead of powering up that hill and going over it starts to lose momentum and then it just… stops.
Friends, I am that rollercoaster.
Things were going really well. I felt like I was hitting my stride with writing and posting regularly. I wrote 30 pages of a new play. I was putting money into my savings account. The theatre company was growing in really exciting ways. Work at the church was going well and we were trying new things that were working. Things with A were settled and comfortable and good.
And then everything started to slow down. It wasn't a crash and burn, just a loss of momentum. It's been a rough couple of months.
I wasn't sure what to write about. There were flashes of inspiration, but I just felt like I had run out of stories to tell. I missed one day, and then another day, and then another. Then the play I was writing lost some of it's shine and I set it aside. Then all of my other ideas lost their shine. Writer's block? Apathy? I don't even know.
My cat got really sick and I burned through all of my savings (and then some) trying to find some kind of solution. After about two months of multiple vet visits (including one after hours emergency), rounds of different medications, and a lot of worry, I had to put my beloved furry baby to sleep. We had spent nine years together and she had gotten me through some of the worst times in my life. There were moments where it felt like she was the only comfort I had in the world. I still can't quite believe she's gone. It feels surreal. I keep expecting to see her in the apartment or feel her jump onto the bed in the middle of the night.
I was doing really well with submitting to writing opportunities, but as rejections started to roll in I got discouraged.
The theatre company had their spring production and while the show itself was beautiful and the impact with our community partners was great attendance (and therefore finances) weren't where we needed or wanted them to be. Plus as my role shifts and changes as the company expands I am still trying to figure out how to best serve the company and my own artistic needs.
Things with A are the only steady and constant and that's wonderful. I am so grateful for her.
I find myself struggling to get the momentum going again after the last couple of months. There's a lot of expensive things coming up for me in the next couple of months (a trip back east, moving to a new apartment, a trip to Wild Goose) and I am not sure how I am going to pay for it. I had been saving to cover all of those things and now that money is gone. I am worried. I trust that it will work out, but there's still stress there.
I still don't know what to write: neither here nor on my plays. But I know I need to write. I know that I am happier and more at peace when I am writing. Just have to figure it out.
Thanks for sticking by me even in the midst of my ups and downs. And thank you for letting me write a post like there, where there is no story or well thought out argument, just a guy trying to make sense of a rough couple of months. It means a lot to have you in my corner and to be community with you.
Hopefully I'll crest that hill soon and come roaring back to life. Knowing you're cheering me on is helping me to keep chugging.
Did you know you can support my work on Patreon?
Photo Credit: sonofwalrus Flickr via Compfight cc