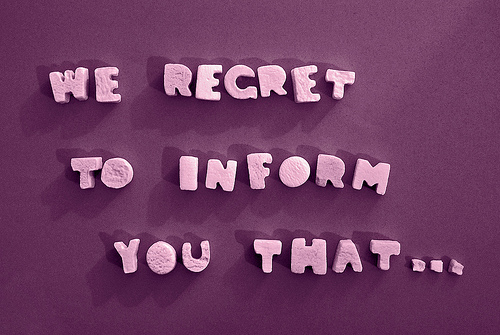 At the beginning of the year I declared that this would be my year of "Turning Pro." I set a goal to apply to ten writing related things by the end of the year. At this point in the year I have already hit my goal of ten applications. On top of that I applied for two grants for Uprising and a speaking opportunity for Uprising and one for QueerTheology.
I went into these applications with low expectations. I know that I am just starting out in this world. I know that I have a lot to learn about submitting. I know that I need good professional feedback on my work. And yet as the rejections started rolling in I find myself stung.
It's hard to get rejected. Even if you didn't expect to get it in the first place, to read the words, "We're sorry" just sucks.
I've tried to do a couple of things: allow it to hurt and then release it, ask for feedback so that I can improve, and keep on applying.
But it's hard. When you get the reply that they received so many applications that they can't offer you feedback, when you get the feedback and it doesn't make sense (or you don't agree with it), when the feedback is inaccurate and it barbs itself into your heart and just won't release.
The hardest part, sometimes, is reading the biographies of the people who got accepted. Not because they aren't good, they totally are, but because they have connections that I don't have. They have recommendation letters from people who are currently on broadway, they have MFA's from Yale and Brown, they have productions in major theatres. (And before you think I am applying for opportunities out of my league, I am apply for the opportunities for emerging playwright's, for folks with fewer than three professional productions, for early career opportunities.) So then I start to wonder, is the only way to make it in this world getting an MFA?
I already have a Master's degree from a very good school that I paid a ton of money for that has resulted in jobs that pay only a third of what that degree cost a year. (Read: I am in massive debt and will be forever.) The thought of getting another very expensive degree in a field that is fickle at best (not to mention uprooting my life for another three years) seems daunting at best, hopeless at worst. I had hoped that applying for these opportunities would help me to make the connections that other folks made during their master's programs. Yet I can't quite figure out how to even get my foot inside the door.
Turning Pro is hard. And I have to admit that these rejections have knocked me on my ass more than I wanted them to. It's hard not to get into your head about it; to feel like maybe you're on the wrong path, to feel like you're not good enough, to feel like you need to wait for the gatekeepers to give you their permission to proceed.
But that's not what Turning Pro is about. It's not about the acceptances, it's about the process of applying. It's applying over and over again, even when you get rejected. It's about giving yourself the permission to call yourself a writer; to give yourself permission to write. It's realizing that the only gatekeepers that matter are the ones that keep you from sitting down and writing, and that those gatekeepers are in your head.
And that's what I need to work on. More than on craft and structure and finessing my applications, I need to work on vanquishing the gatekeepers that keep me from sitting down and doing the work. Because a Pro does the work. No matter what. A Pro keeps at it. A Pro writes for the joy of writing, not just to get opportunities.
So we're a little less than halfway through the year and I feel like I am learning a lot, but mostly what I am learning is to just keep with it. To believe in myself and my work and my voice, to keep putting myself out there trusting that the right opportunities will come along, to trust that Turning Pro is a process.
Success isn't getting the opportunity, it's about putting myself out there for it. It's about sitting myself down to write. It's about producing work that I'm proud of. The rest of it is out of my hands.
Rejection sucks, but the more you get rejected the more resilient you become. It still hurts, no doubt about that, but you bounce back a little quicker. You're able to keep going without getting totally derailed. You're able to continue to do the work. 

And that's what matters: The Work.
Did you know you can support my work on Patreon?
Photo Credit: Caro Wallis Flickr via Compfight cc