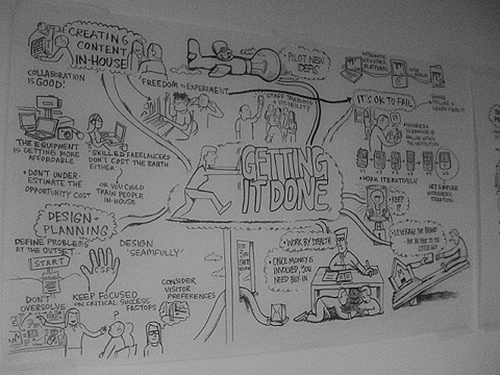 The other week someone asked me, "How do you manage to get everything done?"
Yes, it's true I have a lot going on in my life: I work 30 hours a week as a Faith Formation director at a church, I co-run QueerTheology.com, I run Uprising Theatre Company, I try to write regularly for this site and continue writing plays. I have a girlfriend and friends and try to see them regularly. It's a lot, for sure.
At the moment this person asked the question I was in a period where I wasn't actually feeling like I was getting everything done. Things were scattered. I was putting in a lot of time at all of these jobs but not feeling like anything was moving forward. And my friends and relationship weren't getting the best of me either.
Some people say that you can't do everything well. That if you are focused on your job your relationships will suffer. That if you focus on your relationships then you can't have a side business.
I used to believe that. Partly it's because I'm so introverted and need a lot of time to recharge. I thought that I could never do all of the things I do and have a relationship. And then I found myself falling for someone and realized I wanted to make it work.
And yet my work is also very important to me and I didn't want to give that up either. 

So what do you do? How do you get it all done?
I have some answers. There are some things that work for me. Some weeks are better than others. On some weeks I don't feel like I get very much done. Or like I get a lot of things done but not the right things. Or I get a lot of things done but I don't see my friends very much. But I do feel like I am making progress. I am learning how to get more of the right things done. I am also learning how to get them done faster so that I have more time to invest in my relationships.
I love reading about people's systems and so I thought I would share mine. Feel free to take whatever is helpful.
What works for me:
The system:
Long term planning:
I have a list of what tasks I need to do on a regular basis to keep things moving (stuff like scheduling affirmations for queer theology, scheduling social media posts for Uprising, reading scripts, doing lesson planning for church, etc).
Then I make a list of things that are longer term or more strategic in nature. Some of this is identifying where we are heading. For instance, Uprising is heading toward four shows a year (instead of the two we are currently doing). So if we're going to get to four shows a year what are the things that I need to have in place to get us there? I make a list of all of those items.
Once I have the long term items I try to break them down into easily accessible tasks. For instance: To get to four shows a year we need to find four scripts. To find four scripts I need to have four topics in mind. So one accessible task is to brainstorm and then narrow down a list of potential topics that Uprising wants to tackle.
I try to regularly check in with these strategic plans by scheduling in strategy blocks (more on block below). Right now my schedule is especially wonky because I am in the process of moving so there is a lot more time being spent on packing/cleaning/organizing.
Short term planning:
My morning routine and daily plan:
I try to have my morning be the same every morning (except for Sunday mornings which are early work mornings for me). I get up around the same time. I make coffee and shower while the coffee is brewing. I do my morning check in using the Best Self Journal. And then I write my Morning Pages. These are three long hand journal pages writing about whatever I want.
Once my morning routine is done I get cranking on my day. I usually try to have a writing session right after my morning routine. I am finding that getting my writing done first thing makes me less cranky for the rest of the day. I get the most vital thing done first and then I'm not stressing about it.
After I write I head to the church office and do my work there. Then I come home and do a couple more hours of work on other tasks and do some household stuff.
I have broken all of my cleaning tasks up and spread them throughout the week so that I just have to do a few things a day to maintain my living space. This also helps me to make sure that stuff gets done every week.
I also try to read for an hour every day (20 minutes each in a fiction book, a non fiction book, and a book on creativity/writing craft).
The week plan:
On Sunday or Monday of each week I sit down for a planning session. I do several things: I make a list of all of the jobs that require time from me (queer theology, the church, Uprising, my personal writing, and household maintenance) and then under each heading I make a list of all of the things I'd like to get done that week. This gives me the broad strokes of my week. I have a sense, then, of all that the week will require from me on a task level. Then I get into the actual scheduling of my week.
I first put all of the appointments that I already have on my calendar. Right now I try to keep Mondays and Fridays meeting free so I can really focus in on tasks and writing. But that sometimes means that Tuesday-Thursday gets a little full and hectic. So I get all of that on the calendar where I can see it. 

Then I split up the tasks. Lately I've been experimenting with block scheduling. I find that it helps me to focus better and get more done.
Before I would just make a list of tasks for each day and then bounce from task to task until they were all done. Which means that some days I would do three tasks for QueerTheology, two for Uprising, a couple of cleaning chores, etc. It made me feel scattered and I didn't have a good sense of forward progress. So now I do it differently. I have my list of tasks and then I schedule out a block of time. 

For example my day today:
Morning Routine Block
Writing Block
Social Media/Email Block
Packing Block
break
QueerTheology Block
Study
Within each of those blocks I sketch out what I want to accomplish in that block of time. If I get everything done that I want to, I move on to the next block even if I am ahead of schedule. If something takes longer sometimes I will finish it or, if it's not on deadline, I might move it to another block later in the week.
I make sure that the tasks within the block are easily measured. So instead of just putting "Write" I put "write two pages on my script and write a post for the blog" that way I know exactly when I have accomplished what I set out to accomplish. I also know then if I miss a day exactly what I need to do to catch up.
I might have a day where I don't do anything for Uprising but the time I will spend on it later in the week will be more focused and less scattered. I'll also be mixing in strategic goals with the every day goals.
I also make sure to schedule in date nights and time with friends. I do that ahead of time so I know when they are coming and I can make sure that I have everything done before I get there so I can be fully present (this is still a work in progress).
And starting this week I also have a mid-week check in scheduled so that I can assess where I am at with my weekly plan and shift it as needed. What I've been finding is that the beginning of the week is awesome and then something happens mid-week and I get totally thrown off course. The mid-week check in will allow me to be intentional about getting myself back on track and shifting my schedule if needed so that the end of the week remains as productive as the beginning.
While all of this might sound really intense I find that it has actually given me more free time and the down time I have has been more rejuvenating and fun. Instead of taking a break to watch a movie and during the entire movie stressing that I haven't yet done my writing for the day or that I have 50 million tasks I should be doing, instead I know that when I sit down to watch I have already done everything vital for the day and that all of my tasks are captured and nothing is falling through the cracks. It makes me able to be more present and relaxed.
The tools:
I use an 18 month Moleskine planner that has some blank pages and a month at a time view. I use the blank pages to list the jobs and tasks and the month view to list all of my appointments, trips, etc.
I recently discovered the Best Self Journal and it is rocking my world. It helps you to make progress toward three goals at a time. But what I find most helpful is making targets for each day, the gratitude sections, and planning my day. I use this journal to set my top three tasks for each day, schedule out the blocks of time, and check in both morning and night.
I use a dot grid Moleskine journal for my Morning Pages.
I use Remember the Milk for my daily digital task list. This app keeps my tasks updated between my phone, ipad, and computer. When something comes up in a meeting I immediately put it into RTM so I have it recorded. I keep lists of ideas and tasks and important items.
So that's it! I'm continually tweaking and revising as I figure out things that do and don't work. But scheduling continues to save me. It makes me more calm and less anxious. It makes me feel like I can rest and relax. And it allows me to make progress on the things that are most important to me.
What works for you? What tools do you have and love? What are you struggling with when it comes to planning?
Did you know you can support my work on Patreon?
Photo Credit: cmalexander Flickr via Compfight cc