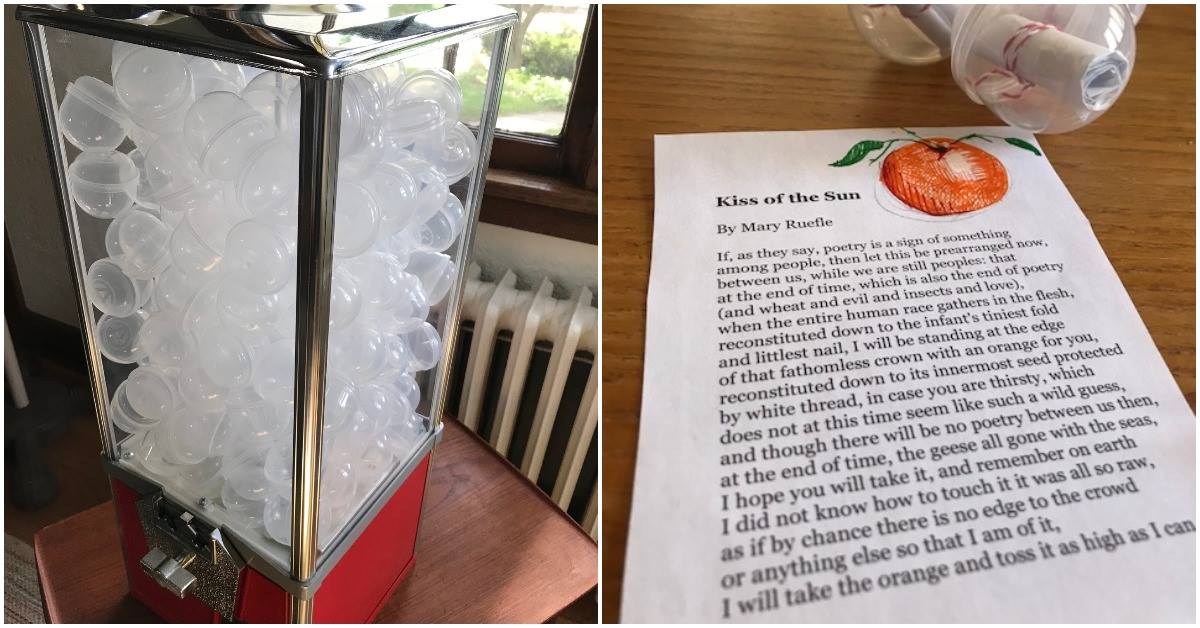 It looks like a giant gumball machine but in reality it's so much more. Put two quarters into the machine. Give the dials a turn. Open the little door. Inside is a plastic container and inside that is a small scroll. When you untie the scroll and unroll it, you find a poem. 

These poems have been curated by people who are incarcerated and part of the Minnesota Prison Writing Workshop. MPWW goes into correctional facilities and hosts writing workshops; storytelling, poetry, fiction. They also pair incarcerated writers with mentors who work with them by mail.

The gumball machines are being place in two local bookstores. Last night I went to the unveiling of the one at Moon Palace books, an awesome store near where I work. Their selection of books is incredible; from local authors, to queer and trans books, to lots and lots of poetry. In that back of the bookstore is a small cafe that serves beer and wine and coffee and tea and pizza. 

I loved going to the event. I got to stroll around the bookstore (and come home with too many books) beforehand. Pop into the back room where the event was being held to meet some people, learn more about the work, and buy a couple of poems.
I love the idea of art being used to give people access to other ways of expressing emotion. Of having new ways to tell their story. Of having new ways to participate in the world.

And I love the idea of gumball machines that dispense poems. Of random and fun ways to get art into people's hands. Of helping people to see poetry as useful and connected to every day life. 

It makes me want to figure out how to better connect my own art to the community I live in. To find ways to do art that connects with people who don't do art. To figure out if there are ways to make theatre more tactile (without having to do improv or have anyone touch me. Because improv and strangers touching me are a big giant NO in my world). 

But more than anything it makes me ask: How do we connect art to every day life? How do we turn innocuous things like gumball machines into dispensers of art? How can we be more creative, more hopeful, more interesting?
How can we continue to flourish in these stifling and depressing times?
Did you know you can support my work on Patreon?